Mondays from July 8 through August 12, Matinee show @ 4PM, Evening show at 8PM
---
Want to be the first to know about all things BJFF? Sign up for our digital newsletter here!
Monday, July 8, marks the official kick-off of the 33rd season of the Berkshire Jewish Film Festival—one of the longest-running film festivals in the United States. This year the BJFF will feature 14 films from around the world, including Holy Land, in which veteran actor James Caan delivers a spectacular performance alongside Rosanna Arquette.
Join us this summer and you will also get to know the women of the first all-female volunteer ambulance corps of New York City, watch a young tattoo artist from Appalachia cover over a swastika on the skin of a former white supremacist, witness one of the last Nazi SS officers on trial, and have your heartstrings pulled by the relatinship of a father (Dov Glickman, star of Shtisel) and his once-estranged son.
The festival will be held on six consecutive Mondays and will feature films at 4 pm and 8 pm at the Duffin Theater, Lenox Memorial High School, 197 East Street, Lenox. All presentations are open to the public. 
This festival is the result of the work of a dedicated team of K.I. members. All proceeds benefit the Knesset Israel Hebrew School.
Tickets may be purchased between 3:15-4 pm, and between 6:30-8 pm on the day of the show and are general admission. There are no season passes this year.
Discount ticket coupons will be available for carpoolers.
July 8
4:00 p.m. – Beneath the Ink
Inspired by current events, an Appalachia tattoo artist donates his services to erase symbols of hate from those seeking to reverse past, bigoted mistakes.
4:00 p.m. – The Barn
A captivating film of a Holocaust survivor and his granddaughter who travel to Poland and reunite with his savior.
8:00 p.m. – I Heart NY
Graphic designer Milton Glaser shares the inspiration behind the creation of his iconic I Love NY logo.
(*No trailer is available for this film.)
8:00 p.m. – The Mamboniks
During the 1950s, free-spirited, mostly Jewish dancers from New York City fell head over heels for the mambo, a hot dance from Havana, Cuba. The film features this zany group of retirees, still dancing to the Latin rhythms.
July 15
4:00 p.m. – Joseph Pulitzer:
Voice of the People
An inspiring American story recounting the life and times of modern journalism's founding father, relevant to the 'fake news' era and heralding freedom of the press at a time when First Amendment rights are challenged.
8:00 p.m. – Rescue Bus 300
A powerful and tense docudrama about the 1984 hijacking and rescue of Bus 300 in Israel.
July 22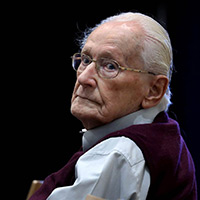 4:00 p.m. – The Accountant at Auschwitz
More than 40 years after serving as an SS officer at Auschwitz, Oskar Gröning told the world what he had done; his admission led to his trial for complicity in the murder of 300,000 Jews. A new generation is reopening investigations against the living perpetrators of some of history's worst crimes.
8:00 p.m. – Holy Lands
James Caan and Rosanna Arquette star in this comedic family drama about a retired American doctor who becomes a pig farmer in Israel.
July 29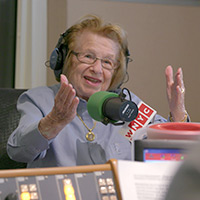 4:00 p.m. – Ask Dr. Ruth
Documentary about the life of Dr. Ruth Westheimer, Holocaust survivor and America's most famous sex therapist.
8:00 p.m. – Leona
A young Jewish woman from Mexico City finds herself torn between her family and her forbidden love. This film contains mature content.
August 5
4:00 p.m. – Shoelaces
This tender family dramedy portrays the knotty relationship between an aging, irascible mechanic and the exuberant special-needs son he abandoned long before.
8:00 p.m. – The Unorthodox
A disenfranchised Sephardic father launches the ultra-Orthodox Shas Party, a nascent challenge to the ruling Ashkenazi establishment in this lively, crowd-pleasing drama.
August 12
4:00 p.m. – 93Queen
Rachel "Ruchie" Freier is a no-nonsense Hasidic lawyer and mother of six who is determined to shake up the 'boys club' in her community. She creates Ezras Nashim, the first all-female ambulance corps in NYC.
8:00 p.m. – The Other Story
Two rebellious young women, one fleeing the chaos of secular hedonism for the comforts of faith, the other seeking to escape her oppressive religious upbringing for sexual and spiritual freedom, cross paths unexpectedly in Jerusalem in this empowering drama.